With the beginning of the new year, Petrotec presents its completely updated range of fuel distributors. This revised range was developed based on the experience of know-how from previous dispenser models: EURO VI, Progress-I and Progress-II, which makes it the best and more advanced of the developed products from Petrotec.
The design of the new range will be very similar to Progress-II (keeping the same elements of the structural basis). The release dates for this new product line are scheduled for January, April, June and July 2018.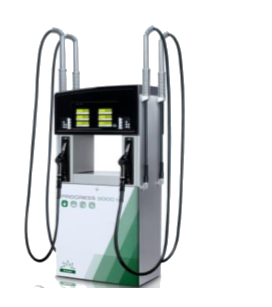 The new product line will simply be called "Progress" and will consist of the following models:
P 1000, P 1500 (for basic applications);
P 1000 R, P 2000, P 3000, P 4000, P 5000 NN and P 5000 LH (for retail sale).
The P 4000 V will be phased out and the P 3000 model with lane-oriented nozzles for small stations limited to 2 products and 4 nozzles will be launched as a new product.
The 5000 version is now equipped with a new hose retraction system called "LH" with a usage length of 4.1 m. This new system is much more convenient, which ensures a smoother retraction of the hose.
The new improvements are mainly concentrated in the field of hydraulics and electronics. The meter/pulse generator installation used will be a Petrotec PTF 25-80 filter and an ED-03 optical pulse generator with electronic calibration. This fuel transfer line will be equipped with an RTF pumping unit.
The "Pulse Interface" protocol will be added to the list of already available communication protocols: Petrotec/EPS5; IFSF V1.0 (with protocol converter); IFSF V2.0; Dunclare; Dart 485; HDX 485/CL/IP; Hectronic-ER3. The Pumalan protocol will be available very soon.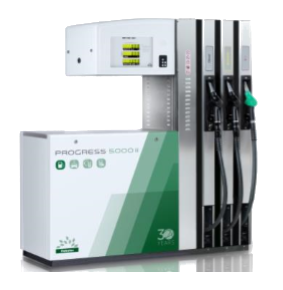 A significant increase in AdBlue sales is expected in the coming years. Therefore, Petrotec has developed the possibility of refueling AdBlue for passenger cars (no more than 10 liters) and/or AdBlue for heavy vehicles (maximum 40 liters), although the heating of the hose will be offered only in the P 1000 R and P 5000 versions.
Petrotec also offered new versions of container solutions for AdBlue – EUROBANK – 1500/3000/5000/10.000 lts, where he presented more specific information.
As for the flow rate, traditional 40/40-80 ("turbo" with flow selector), 120130, 160, e 200/200 l/min with RTF monoblock will be available for three-phase electric motors. Single-phase motors will be available only for flows of 40, 40-80, 80, 100 l/min.
There are also some improvements in the vapor recovery system, with the compact assembly of the vacuum pump/motor in MPD dispensers. For single- and double-port dispensers, the company retains the traditional vacuum pump/belt/motor. The monitoring system has also been upgraded with a new sensor that brings the loop closer to a new level of performance.
If you have any questions about purchasing Petrotec products, please call +7 (495) 739-25-10 or info@ligir.ru. We will be glad to help you!