Ligir specialists have confirmed and improved their qualifications for MIX products.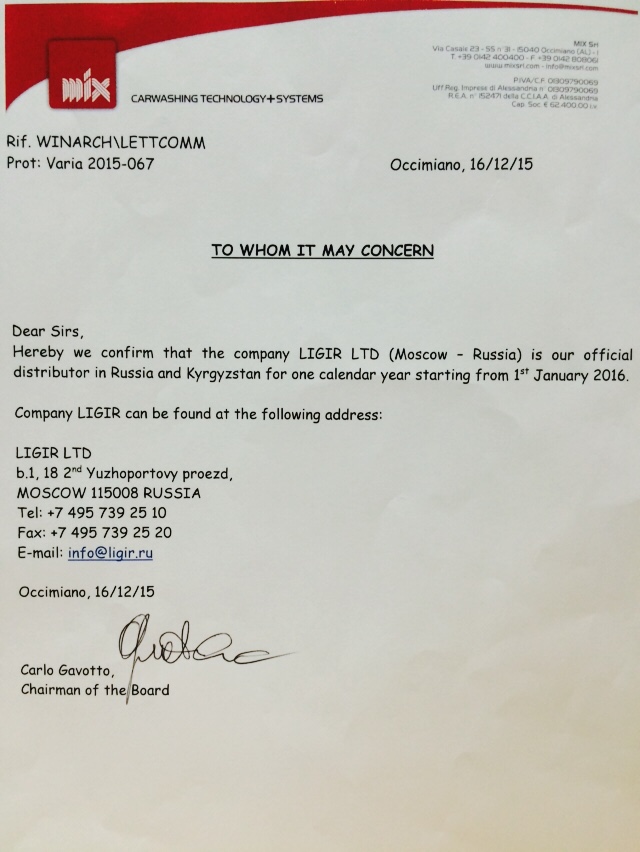 The annual training took place from December 15 to December 16 at the production facilities of the factory located in the town of Ochimiano, near the famous tourist center Casale Monferato (Italy).
The first day of the training was entirely devoted to self-service car washes (MSO) MIX. Ligir specialists got acquainted with the new technologies used in this segment of car washes. New equipment was tested, special attention was paid to the operation of self-service car wash units and units in various configurations.
All components included in the installation, namely:
a group of high-pressure pumps, electrical equipment, water heating and floor heating systems, sewage treatment plants – worked without a single failure and aroused the admiration of not only representatives of the Ligir company, but also the manufacturers themselves.
The second day was devoted to automatic portal brush and contactless sinks. MIX engineers managed to create a unique Pulse HP contactless washing complex, which has no analogues today. The technology of rotating injectors, each of which is serviced by its own high-pressure pump with a capacity of 18 liters per minute and developing a pressure of 120 Bar, allows not only to clean the car qualitatively, but also to ensure minimum water consumption.
Such an installation is serviced by its own high-pressure Complexunijet HP, mounted in a stand-alone compact module. Taking into account the fact that all systems include frost protection, this portal can be installed outdoors and carry out year-round work without problems. According to the estimates of leading experts in the field of car wash technologies, such an installation will be widely in demand on the Russian market.
Ligir specialists will always provide their clients with qualified assistance on any issues related to the equipment and designs of self-service car washes from MIX Srl (Italy).
We will be happy to answer any technical questions. Please contact us for technical support by e-mail: carwash@ligir.ru a>