One of the most important tasks of the management of Heathrow International Airport (England, London) is to ensure a sufficient supply of diesel fuel, gas oil, AdBlue and de-icing fluid for the full operation of the airport in bad weather conditions.
The complexity of such systems is that the pipeline must be installed above ground, guaranteeing protection from ultraviolet rays and other natural influences. And since Heathrow Airport is a huge transport hub, the contractor was faced with the issue of installing the system in the shortest possible time. Of the organizations that offered their options for a comprehensive solution to this problem, Heathrow specialists made a choice in favor of the UPP pipeline manufacturer, Franklin Fueling Systems.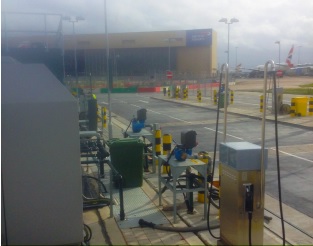 The customer noted the complete compliance of the UPP pipeline with all international requirements. Moreover, the double-walled UPP system turned out to be much faster, safer and more economical to install, compared to steel piping. With these advantages, plastic is lighter, which has reduced logistics costs. Franking Fueling Systems' comprehensive solution for Heathrow Airport includes the TS-550 evo system; UPP pipeline lines: for pumping glycol, diesel fuel and gas oil (125/110 mm), for distributing diesel and gas oil (110/90 and 63/50 mm), for distributing glycol (90 mm), for pumping and distributing AdBlue (63 mm and 40/32 mm).
Ligir LLC is the official representative of Franklin Fueling Systems in Russia and CIS countries.
If you have any questions, please call +7 (495) 739-25-10 or info@ligir.ru
We will be glad to help you!