We bring to your attention a selection of interesting facts about the gas station
Did you know that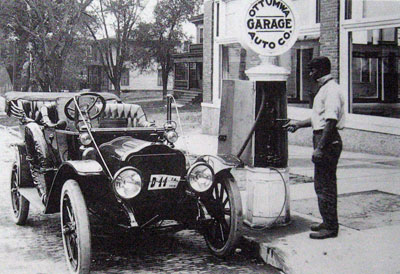 … Did the gas stations come to us from pharmaceuticals?
… the first gas station appeared in Germany at a pharmacy and was initially considered by the owners only as a side business?
… the first car at the gas station was refueled in 1888, the customer became Cecilia Bertha Benz, the wife of the German automotive pioneer Karl Benz?
… the first independent gas station appeared in St. Louis (USA) in 1905, 17 years after its prototype?
… the world's oldest operating gas station was opened in 1909 in the USA?
… initially, the gas stations were one or two tanks on supports, from which hoses ran, and gasoline flowed into the tank of the car by gravity?
… gas stations began to take on a familiar look for our time in the 1910s-1920s: large signs were installed to attract customers, the first shops selling spare parts began to appear at gas stations?
… in the late 1920s-early 1930s, a new type of pump for gas stations appeared, its principle of operation was as follows: first, gasoline came up into a glass tank, from where the hose entered the gas tank. Thus, the buyer could personally verify its purity?
… in the Russian Empire, the first gas station was built in 1911, when the Imperial Automobile Society signed an agreement with the Br Partnership. Nobel" regarding "Petrol stations"?
… the oldest operating gas station in Moscow, The Kremlin gas station on Volkhonka, was built in the 1930s. This is the only gas station within the Boulevard Ring and the only implemented element Palace of Soviets?
You can find other interesting facts, news and current events in the industry in the News section
To get detailed advice on gas station equipment and our other products, please call +7 (495) 739-25-10 or info@ligi r.ru