We continue to discuss why UPP has become better
According to statistics for the last 80 years, only 30% of leaks occur from the fuel tank, the remaining 70% were recorded in steel pipeline systems.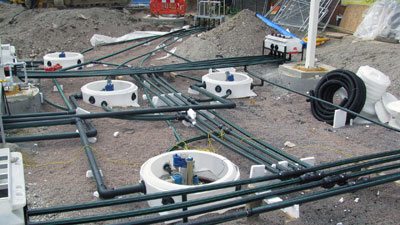 Steel has been replaced by polyethylene pipeline, which is a reliable and safe alternative to metal. UPP plastic piping systems manufactured by Franklin Fueling Systems are made of PE100 polyethylene with an additional EVOH barrier layer, which guarantees 100% impermeability and UV protection throughout the entire service life of the system, without harming the environment.
A significant advantage of UPP is a long service life – more than 50 years. The UPP pipeline is not subject to corrosion, is suitable for areas subject to seismic risk and can be used in inhomogeneous soils. If we consider the UPP installation process, we can note a number of positive features. UPP deliveries are possible both in coils and in segments, which, combined with the welding process, ensures simple and fast installation in all weather conditions. Moreover, the flexibility of the UPP plastic pipeline allows the use of fewer fittings (and, accordingly, fewer welding operations). Due to these features, it takes 20% less time to install a plastic pipeline than to install a metal system. In addition, plastic is 6 times lighter than steel, which allows not only to reduce transportation costs, but also to reduce labor costs.
It is worth noting that the UPP system is certified by international organizations, and is also widely used by such giants as Shell, STATOIL, ExxonMobil, Petron and Puma Energy. The system of plastic pipelines appeared in 1981, today it provides work at more than 48,000 gas stations in 150 countries of the world
We recommend you to look at the appeal of Jan Ageheim, which he released in October 2015 in Russian.